Anne
About Anne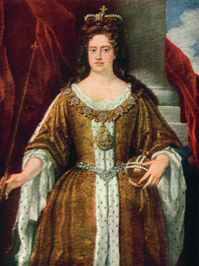 Second daughter of James II. Born 1665. Succeeded to the crown on the death of William III whose wife, Queen Mary II., pre-deceased him, dying in 1694. Crowned at Westminster April 13th, 1702. Was married to Prince George of Denmark in her eighteenth year, by whom she had thirteen children, all of whom died young. He died six years after the Queen's Accession.
Anne's was the reign of Sarah Jennings, Duchess of Marlborough, whose influence over the Queen was for long paramount; and of her husband, John Churchill, Duke of Marlborough, the greatest Captain of his age, who defeated the armies of France at Blenheim, Ramillies, Oudenarde, and Malplaquet, as great in council as in the field.
The reign also of great statesmen - Harley, St. John (Viscount Bolingbroke), Somers, Godolphin, and Montague; of great masters of literature, Addison, Steele, Swift, Pope, Gay, and the rest; of other representative men, Lord Peterborough among the noteworthy, a general who had "a real genius for war," and helped in Spain to bring victory to the soldiers of the Queen.
One event of Anne's reign for ever memorable in History was the final Union of England and Scotland, dating from the year 1706-7, that of the victory of Ramillies. In giving her assent to the Act of Union, Queen Anne said: "I desire and expect from my subjects of both nations, that from hence-forth they act with all possible respect and kindness to one another."
As Great Britain, the nations twain have, ever since Queen Anne's time, been united; the people thus happily joined together being generally referred to as English instead of more correctly British; the one subject of occasional contention remaining to this present day.
"Good Queen Anne" was a common enough distinction conferred on this sovereign in everyday talk in Georgian times. She was "good" in the popular estimation, because in reality she was so: pious, affectionate, amiable, charitable, not very intellectual, and Protestant to the backbone.
The relations existing between herself ("Mrs Morley") and Sarah, the tyrant Duchess of Marlborough ("Mrs. Freeman") have frequently been told, and reveal the weaker side of Queen Anne's character.
She was in truth so gentle, inoffensive, and kind, that she could not fail of being described accurately as a good woman, even though dull. And what more sufficient or higher title?
English Monarchs