Victoria
About Victoria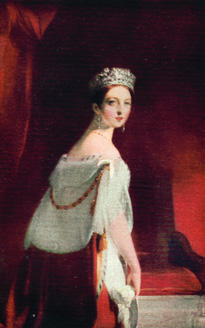 Daughter of Edward, Duke of Kent, fourth son of George III. Born 1819. Succeeded to the throne on the death of her uncle, William IV.
With the accession of Queen Victoria ended the union of England and Hanover under the same sovereigns; the last-named state passing to the next male heir, Ernest, Duke of Cumberland.
Crowned at Westminster June 28th, 1838. Married Albert, Prince of Saxe-Coburg and Gotha (Prince Consort), to whom were born nine children. The Prince Consort died in 1861, and Queen Victoria, who lived much in retirement in the years following his death, in 1901. During those years, the Prince and Princess of Wales took an active part in State affairs in relation to the social aspects of royalty.
Queen Victoria's early reign was not free from political and other troubles: the Chartist Riots (1839); the Corn Law Agitation (1839); the China and Afghanistan Wars (1841); the Irish Famine (1846-7); a rising in the West of Ireland (1848); Sikh, Kaffir, and minor warfare.
The Great Exhibition of All Nations of 1851, held in Hyde Park, was to be a herald of universal peace; but within three years the Russian (Crimean) War of 1854-6 broke out. Then followed the serious Mutiny of Native Troops in India; the American Civil War, in which England was in many ways vitally interested; the Danish, Franco-Prussian, Russo-Turkish and other wars, in which England was neutral, followed; and finally, towards the close of Queen Victoria's long reign, came the Boer War in South Africa. Her reign was clearly anything but one of peace.
It was however a reign of vast and unceasing progress and of notable legislative and other reforms: educational progress, sanitary progress, progress in science and invention, economic, social, and moral progress; improvement of every kind in every way; the reign of iron, steel, and steam; of penny-postage, gas for lighting purposes, railroads, steamships, ironclads, telegraphs, omnibuses, telephones, tramcars, underground railways, the Forth railway-bridge, electric lighting, mechanical improvements in every branch of manufacture; the reign of great charities, cheap travelling facilities, vast hotels, and of complete change in the social habits of the people generally, upper-class, middle-class, and artizan class.
The reign of trade unions and of labour representation in Parliament; and the reign of vast accumulations of wealth, not to add of newspapers.
No sovereign was more universally beloved by her people than Queen Victoria, and for none was more universal national sorrow felt and expressed at her death.
English Monarchs